The FiiO Q5 Portable Headphone Amplifier/DAC - Now With the New AM3B Amplifier Module
Author: Tom Gibbs
Review from: Positive-Feedback
→→ Read the original article on Positive-Feedback: >> Click here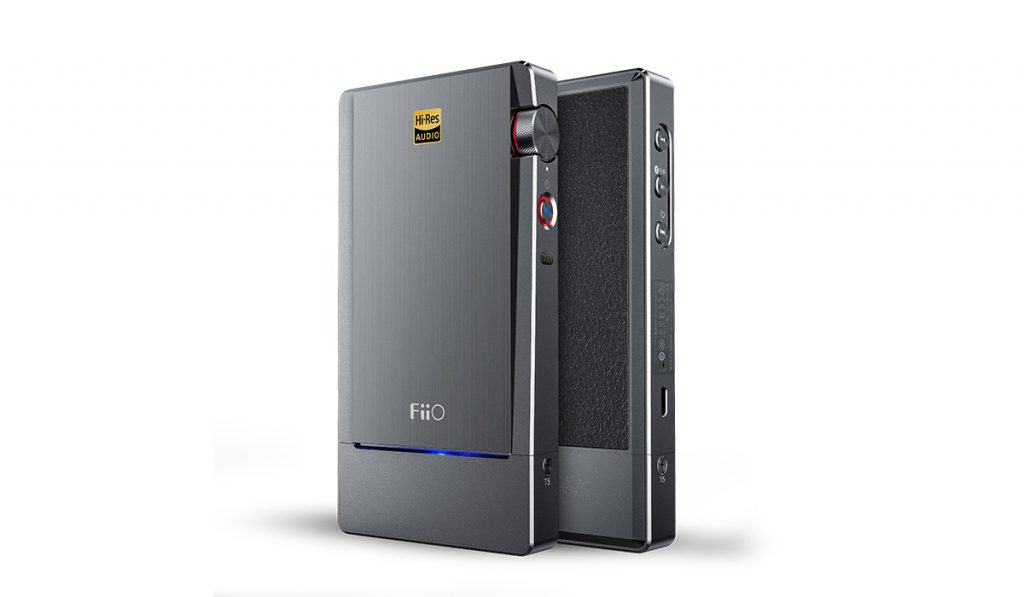 As Fiio continues their push into higher-performance personal portables (and into the US market!), they're releasing some technologically remarkable products that perform at a shockingly high level. And at price points that tend to be well below the cost of completing brands like AK, HiFiMan, and Sony. I'm continually impressed by the performance of the Fiio products I've had the pleasure to review over the last couple of years; they truly push the envelope for exceptional sound quality with cutting-edge features and at a price point that anyone can afford.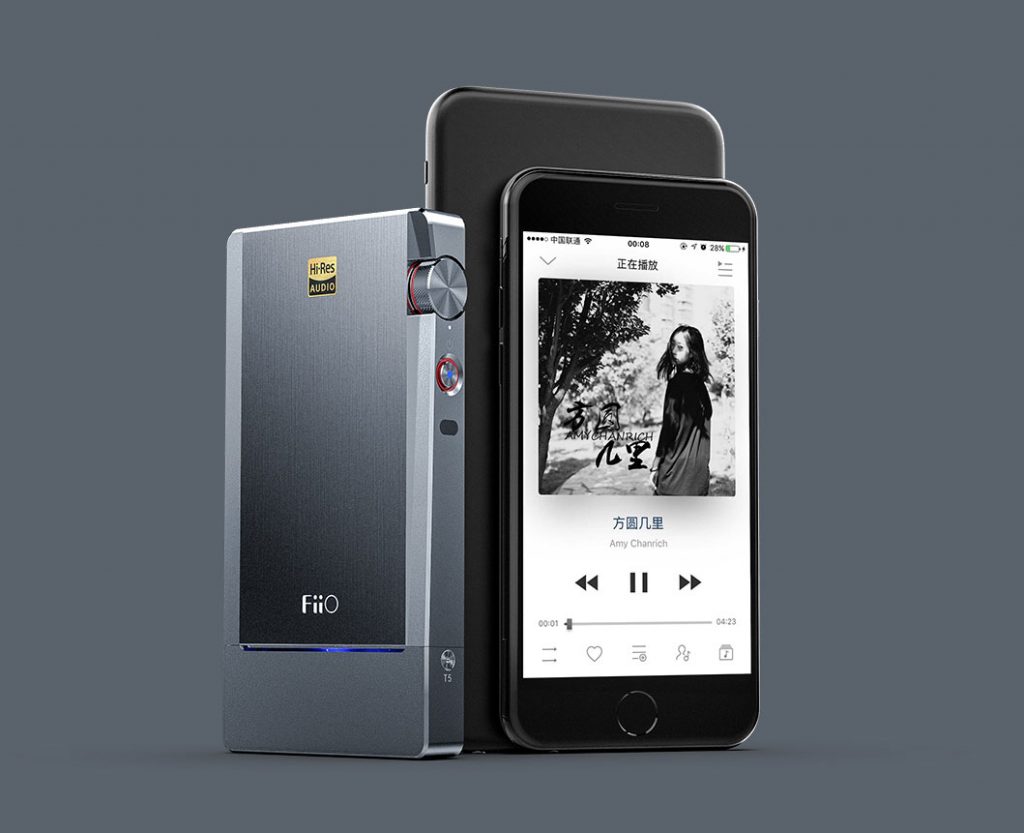 Fiio's newest (and flagship) Headphone Amplifier, the Q5, is about the size of a typical cell phone. The unit is an attractive titanium color, and has a leatherette patch on the back panel to protect it from scratches and other damage while in use. Leatherette and silicon cases are also available to add extra protection, if desired. The blue-illuminated power switch is on the right side panel, along with the volume control knob, which has a really nice feel to it, and a slightly recessed panel structure to allow for ease of use. There are switches on the upper side panel that allow control of gain settings (high or low) and bass boost. That panel also contains the optical/coax/line input jack, and the line output jack. The lower side panel has jacks for both standard 3.5mm and 2.5mm balanced headphone connection, as well as the micro USB source input. The left side panel has the micro USB input used for charging, as well as the Bluetooth function buttons, which control pair, play, and pause of connected Bluetooth devices. The base Q5 model comes supplied with the AM3A amplifier module installed, which is the same amp unit supplied with Fiio's flagship X7 Mk. II digital audio player.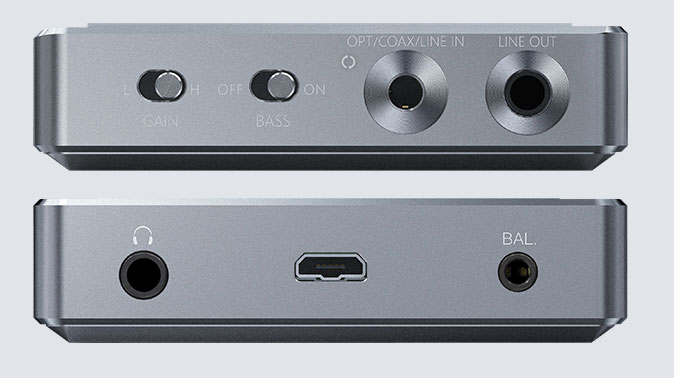 The Q5 sports a world-class 32-bit Digital-to-Analog Converter that employs dual AKM AK4490EN chips with a XMOS controller. The AKM chipsets have developed a deserved reputation among aficionados of personal portables for their exceptionally smooth sound quality. The DAC offers an extensive feature set that allows PCM playback with files up to 384kHz, as well as DSD support up to DSD256, whether via a DoP feed or native DSD. I no longer feel that the exclusion of DSD capabilities is a deal breaker with personal portables, but having it available is a really nice touch for those of us who do have DSD files present in their digital libraries. There's a small green light on the right of the unit that confirms that DSD playback is active; however, DSD playback from a connected digital audio player requires a 3.5mm-to-USB micro cable (available from Fiio). If you spend a lot of time (like I do) with the Q5 connected to your laptop, you can simply connect the supplied USB A-to-USB micro cable and get DSD playback effortlessly. Fiio has a desktop control panel that's available for download that allows you to monitor sample rates and make latency adjustments to fit your particular playback setup.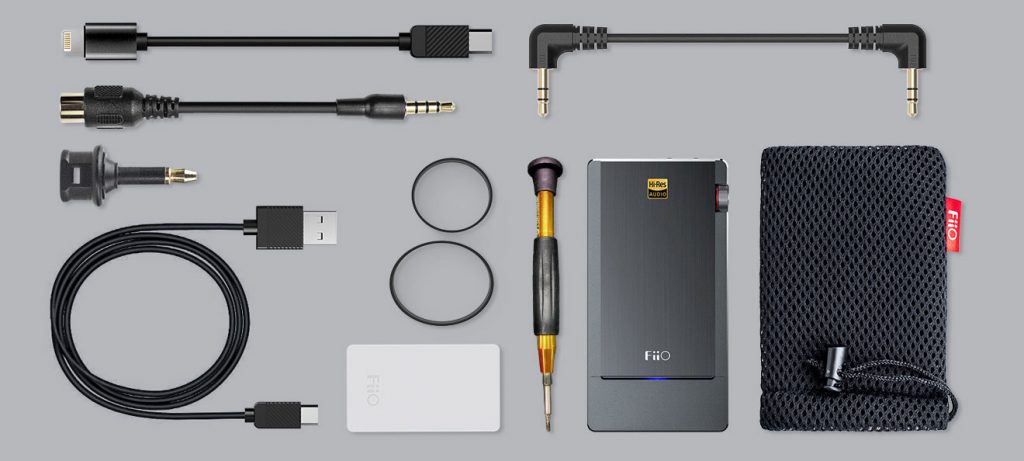 A lightning-to-USB micro cable is included, so if you're an iDevice user, you're in luck, and the cable is guaranteed to work with future iDevice system updates. In fact, the Q5 comes supplied with an incredible selection of cables to fit just about any connection requirement you might have, whether connecting to a portable device, or even your home stereo setup. Also included are a variety of very handy gadgets, such as a selection of bands that allow you to partner your portable devices; easily expandable carry cases that cushion and protect your devices; and a very useful T5 microdriver that allows easy on-the-fly changes of amplifier modules. I overlooked the presence of the microdriver in the packaging early on, and even went down to my company's maintenance department trying to find one small enough to fit the Q5. No dice, apparently the T5 is a non-standard size with most microdriver kits. Luckily, Lily from Fiio was kind enough to point out to me that the T5 driver I needed was in the box. Talk about feeling silly!
The Q5 has a 3800mAh, high capacity battery that offers robust battery life. It allows for about ten hours of playback when used in combination with the internal DAC, but stretches to twenty hours when used strictly as a headphone amplifier. That's pretty impressive, and easily bests any other portable amp I've come in contact with, and the battery will retain much of its charge for extensive periods of non-use. Of course, when using with my laptop, a connected USB cable allows for continuous charging, which makes the battery life a moot point.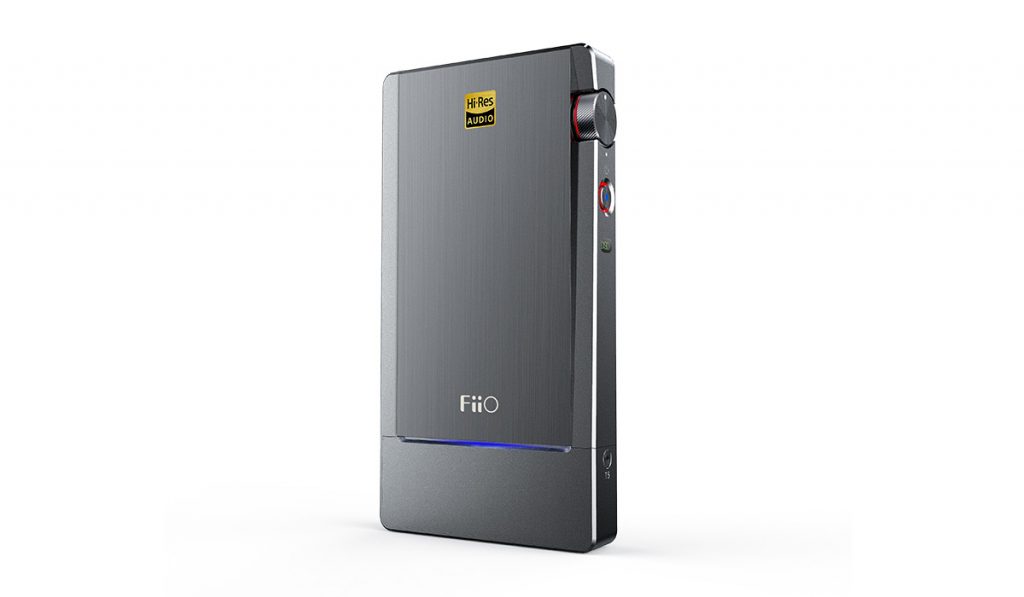 One of my earliest questions with the Q5—which has no static screen display—was how to determine battery life, as well as other status functions. As it turns out, the Q5 has a color-coded RGB status bar, which easily helps you monitor active input and battery life. Status indication is as follows: blue indicates that the built-in Bluetooth receiver is active; white indicates a USB input; yellow indicates a coaxial digital input; green indicates a 3.5mm line input, and purple indicates an optical digital input. Finally, a red bar indicates battery status; flashing red indicates that the battery charge is low, while a steady red bar indicates that the battery level is critically low. Any of the indicator colors pulsing continuously confirms that the battery is being charged. No charger is supplied, but just about any Android or iDevice charger will fit the bill nicely. The Q5 also uses intelligent power management, so when the Q5 is connected to your android or other device via USB, it won't drain the connected device's battery. Remember, the Q5 has two micro USB inputs; one is strictly for rapid charging, while the other is for source connection. The separation of power and source inputs has been adopted by a number of manufacturers, and functionally works perfectly. In my experience, the Q5 charged with a high-output charger in just a couple of hours.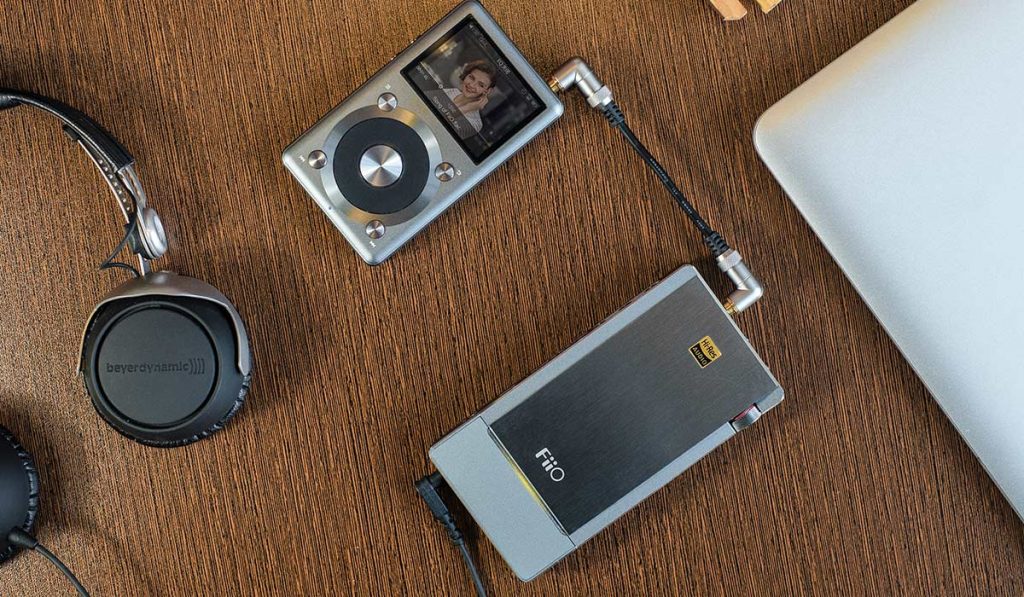 The Q5 includes the latest Bluetooth technology from Qualcomm, complete with aptX HD audio. It then takes the technology to a higher level by bypassing the internal Bluetooth DAC and using the Q5's AKM DACs, which adds significantly to the musicality of the resulting sound. I easily verified this by connecting a high resolution feed from my laptop to the Q5, then connecting it to a pair of Audioengine A5+ Wireless powered loudspeakers (you can read that review HERE). I raved about the sound quality of the A5+ in my review, and anything played with a connection to the Q5 sounded spectacular. Firmware updates will allow for any improvements to the technology to be implemented, so that Bluetooth performance and sound quality will always be cutting-edge.
The Q5 arrived with the stock AM3A amplifier module attached, which will deliver power up to 200mW when using the standard 3.5mm headphone connection, and doubles that by increasing the power output by as much as 400mW when using the 2.5mm balanced headphone connection. I've already decided that my personal preference goes to a balanced connection whenever available. Besides the delivery of additional power, which greatly increases the range of usable (and larger, over-the-ear) headphone configurations, my experiences tell me that the balanced connection sounds better, perhaps even more organic. I still had Fiio's flagship F9 Pro In-Ear monitors on hand (you can read that review HERE); they're superb sounding earphones that offer a generous helping of high-end sound for less than $150 USD. And with those connected via a balanced cable, I was truly impressed with the clarity and musicality of the sound via the Q5, not to mention the improved dynamics with the much more powerful amplifier. Don't get me wrong, the sound from the previous Fiio digital audio players and amps I've had experience with such as the X5 Gen III (reviewed HERE) and the A5 headphone amp (reviewed HERE) are pretty darn good. But nowhere nearly in the same league as the Q5.
Probably because the Q5 has such an improved DAC configuration over previous models, and of course, it utilizes the same amplifier module as their flagship digital audio player. When I listen to the X5 Gen III player with the F9 Pro I love the flexibility that the Android operating system offers to the X5. By allowing me to choose from not only music library files I have loaded onto the two micro SD cards I have inserted in the X5, but also to access my Tidal account while on the go. And the sound is really great, but—hook it up to a line out connection to the Q5, and the sound quality is simply transfigured. More of everything; better bass, improved dynamics, superb musicality. Everything that makes the Q5 worth every penny of it's very reasonable $350 USD asking price. And I get the same impression, regardless of which headphone I happen to have attached to the Q5; it makes everything sound so much better!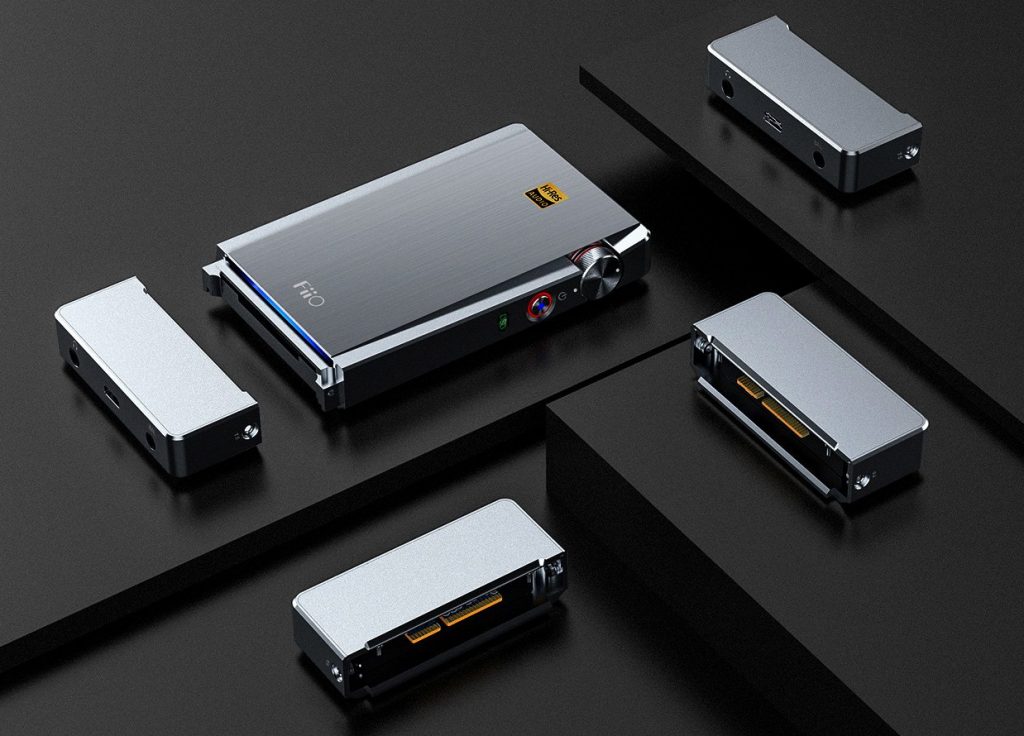 I'd been listening with the Q5 for a good while, when Lily Lee emailed me with info about a new, improved amplifier module that would soon be available for both the Q5 and X7 Mk. II, the AM3B, with an MSRP of around $100 USD. It would not only offer an increase in available power of about 100mW over the AM3A, but will include Fiio's new 4.4mm headphone connection jack. The 4.4mm jack is touted to improve playback significantly, and a supplied adapter, the BL44, would allow connection of my current balanced headphones. Would I be interested in taking a listen? Oh, heck yes!
The pair arrived in about a week, and this is the point where I massively failed by overlooking the presence of the T5 microdriver that came in the box with the Q5. I have a pretty good selection of driver tools of all configurations and sizes in the tool chest in my garage, but nothing that went down to a T5; the smallest I could find was a T6. Same deal at Home Depot—T6 was as small as I could find. I thought that surely the guys at my company's maintenance department—who seem to have every tool imaginable to mankind—would have one, but no luck there either. I casually mentioned this to Lily in another email, and of course she was kind enough to point out that I had the needed microdriver all along. Just like Glenda the Good Witch telling Dorothy she'd had the power all along! There's no place like home, and that's where the microdriver I needed was awaiting me!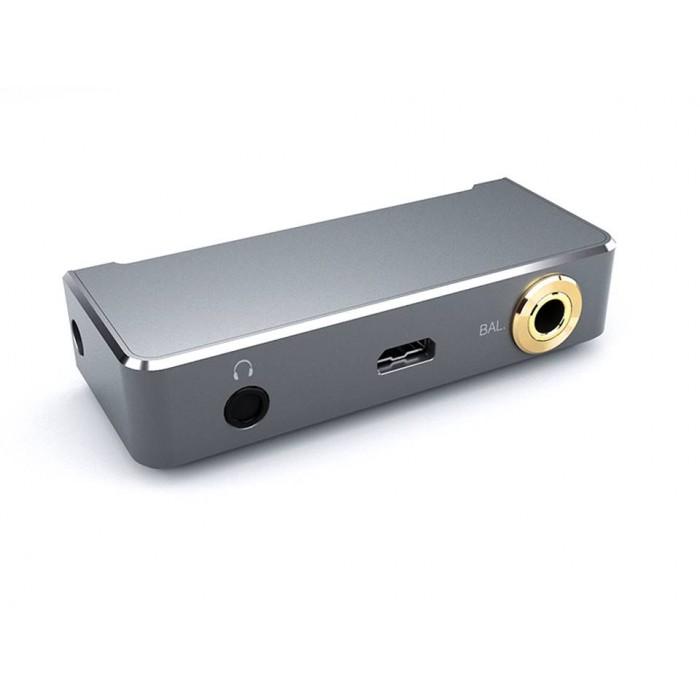 After a couple of days of microdriver madness, it only took a minute or two to change out the AM3A for the AM3B module, and I set up a continuous loop of music with good bass content to play through the Q5 for a couple of days to break-in and burn-in the AM3B. The new 4.4mm connection jack looks HUGE compared to the standard 2.5 and 3.5mm jacks. And while the BL44 adapter seems a bit less than elegant to me, it will work very well until the point when 4.4mm headphone cables become the norm. Anyway, skeptical that the seemingly slight improvement in output power and a larger cable connection would make a significant difference in the overall sound quality, I attached the F9 Pro earphones for a first listen.
Wow! Right out-of-the-gate, the improvement in every aspect of playback was unbelievably good. Did I mention the "Wow" part? Wow! I was literally floored by how great the F9 Pros now sounded compared to through the stock Q5. But I only listened for a short period of weeks, when Lily emailed me with yet another new availability: their new, flagship, FH5 In-ear Monitors would soon be available. Interested? Oh, heck yes! I continued to marvel at how great the F9 Pros now sounded; more dynamic, much more musical. And I even played around with the bass boost switch on the Q5, which I felt offered greatly improved bass response without sounding forced or bloated with the F9 Pro.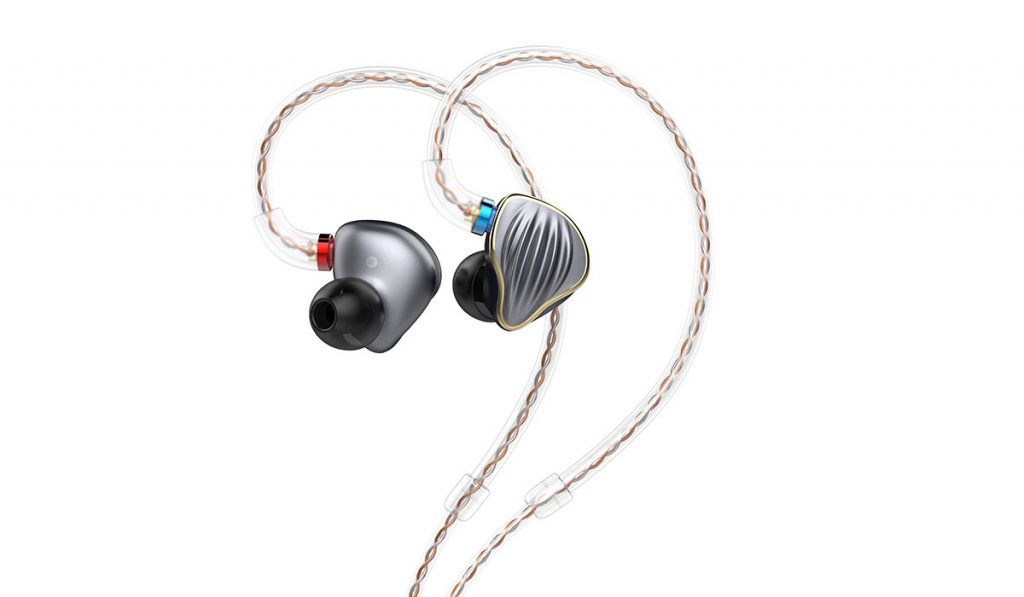 A couple of weeks of listening later, and the FH5 arrived, which is a quad-driver setup and the most ambitious headphone Fiio has yet attempted, with an MSRP of around $260 USD. A full review of the FH5 is forthcoming, so I'll keep it short and sweet: the Q5 with AM3B amp module and the FH5 In-ear Monitors is probably the finest personal portable combination I've had the pleasure of ever reviewing or experiencing. The FH5 has a level of transparency, musicality, and coherence I've never experienced with an in-ear monitor; not to mention their extreme comfort. The sound I experienced through these remarkable earphones was, to me, not at all unlike sitting in my listening room with my big-rig stereo playing. I've sat stunned and amazed for weeks, blown away by the life-like, unheadphone-like sound coming from these excellent in-ear monitors. I've been able to use the balanced cable from the F9 Pro earphones in combination with the 4.4mm adapter. Lily is in the process of sending a solid silver, 4mm equipped cable that's made especially for the FH5 (the LC-4.4C). That should be a real eye-opener, and I'll dish all the details in my upcoming review.
When you add the extra $100 for the AM3B amp module to the Q5, that brings the total price to about $450. Add in the new FH5 earphones, and that brings the price of the combo upwards of $700, which is a lot of money, but in the world of high-performance personal portables is an absolute steal. When I first approached Fiio a few years ago, I originally thought their products were priced right, but were a little clunky and kludgy in their execution and appearance. That's no longer the case; Fiio products are still priced very attractively, but they're also among the most stylish and functionally perfect amps, players, and earphones on the market—at any price. I can't recommend the Q5 with the AM3B module highly enough, and can't wait to tell you more about the FH5!
Fiio Q5 DAC/Headphone Amp
Retail: $349.99 (USD)
Fiio AM3B Amplifier Module
Retail: $99.99 (USD)
Fiio
All images courtesy of FiiO